Michelle was diagnosed with adenocarcinoma on March 31, 2019. Her lung cancer metastasized and has spread to her brain where there are five lime-size tumors that are too large to be removed. Her cancer is not curable, but the family is hoping to keep her in treatments to be able to keep her around as long as they can!
Michelle can no longer work or drive so her daughter, Courtney, reached out and set up this fundraiser for her mom. Michelle is a single mother that has always put her kids first. Courtney wants to raise money to return the love!
With the help of Michelle's daughter, we came up with a special design to spark conversation, spread awareness and help raise money for the Smith family.
When you purchase a shirt, 80% of profits are given to Michelle.
---
When you make a donation, 100% is given to Michelle.
STORY & MEANING BEHIND THE DESIGN
---
At age 36, Michelle went back to school to become a nurse. While getting her degree, she provided for her 3 kids as a single mom and took care of her father that was diagnosed with melanoma cancer. He passed away before Michelle's proudest moment - graduation.
For the past 7 years, Michelle has been working in long term nursing and doing what she does best - lighting up people's lives.
The design is centered around her love and pride for nursing. Not just the work that she's doing, but for the great accomplishment of how she got there. The stethoscope shaped heart reminds us of her huge heart and love of helping others. The graphic is simple, yet powerful. The cancer ribbon hanging there says that she's not quite finished yet and symbolizes the type of person it takes to put others first even when you're hurting yourself.
All this centered in a red circle - the color of love (and her nickname!).
---
On the left sleeve, we printed "Team Michelle".
When Michelle's daughter, Courtney, reached out to us it didn't take long to realize just how many lives her mom has touched. She's taken care of so many for so long, it's time for all of us to rally around her!
Lastly, the shirt color is to spread awareness using the color of lung cancer - white.
---
Michelle is 49 years old from Dowagiac, Michigan. She has 3 kids that are her whole world and make her laugh every day.
She loves to go on beach walks to enjoy the sunshine and look for beach glass, She has always been one to carry rocks, gemstones, and crystals with various meanings in her scrub or jeans pockets. She loves going to gemstone stores and collecting special gemstones for anyone that may help their circumstances.
She is planning on making scarves that will have all her special gemstones on them to keep her in a spiritual mindset as she continues to fight.
---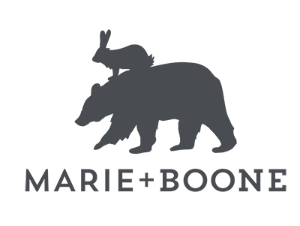 ---
Marie & Boone was founded after our fight with a rare cancer. We felt a strong calling away from the path we were on, so we answered. We sold everything we owned and never looked back.
We're a faith-based company that designs products to tell stories, raise money and encourage the young & brave fighting cancer.
At our core, we have one simple rule: never make more than we give. We only keep 20% of sales to sustain the company (and our family) with plans of one day being able to donate 100%.
More than just helping families with the financial side, we want spark the way and be a light during dark times. We hope our walk through the wilderness will show others their mountains can be moved too.
We live by our motto,
"faster alone, further together".
Bear one another's burdens, and so fulfill the law of Christ.